Erika Laquer is a birth doula and also offers childbirth education. She owns Better Beginnings Birth Services, in Northampton, Massachusetts
Q: When did you first become a doula?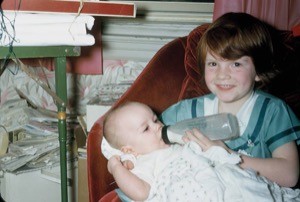 A: I started helping my mother and my aunts with their babies at a young age. In this photo, taken when I was six, you can see my excitement and pride in caring for my cousin.
Q: When did you discover your passion for birth?
A: In 2006 I went to a hospital in the Dominican Republic  as part of a volunteer medical group. I went because my daughter was adopted from the Dominican Republic. I had a strong desire to give back to the country of her birth. Most women in maternity wards went through labor alone and without medication. I quickly felt drawn to women in labor, giving them emotional support and kindness that needed no language. The difference that doula care made for these women amazed me. I felt called to be involved with birth in whatever ways possible, in addition to my professional role as a dean and instructor at Smith College. After this life-changing experience I started attending births in the US and taking doula courses and Spanish. I have returned many times to the Dominican Republic since 2006.
Q: What is a doula exactly?
A: Doulas help parents-to-be with education, emotional support and advocacy.   Birth doulas teach skills and techniques for relief in the third trimester and help clients learn about non-medical pain relief in labor. Postpartum doulas specialize in caring for the new family after the birth.  As a birth doula I get to know my clients before labor so I can translate their dreams and previous experiences into a satisfying birth. I  work with women with high risk pregnancies and pregnancies of extra concern. Together, the doctor or midwife and I give the extra care and support they need. For a few of my birth clients I provide a separate package of continuity of care for the first two weeks after birth.
Q: What is your training as a doula?
A: Soon after my amazing experiences in the Dominican Republic, I took a national doula training course with CAPPA, and I retrained with DONA International in 2014. I also graduated from a home-birth midwifery program in 2009. I have attended many workshops and trainings over the years.
Q: Why are you passionate about supporting new mothers?
A: Whether this is their first pregnancy or their last, I believe that the compassionate support of an experienced doula gives birthing clients a special benefit. A trained birth attendant gives physical and emotional comfort along with the partner. The doula is the one person during labor and birth dedicated exclusively to the emotional and physical needs of the mother.  I know that the memories and the feelings about becoming a mother will last a lifetime.
Q: Is there any scientific research on the benefits of doula care?
A. Since 1975, research has grown about scientific results when doulas attend births. Labor length is shortened by 25%; use of artificial stimulation of labor is reduced by 40%; pain medication is reduced by by 30%; and cesarean surgery is performed in 45% fewer cases. Shorter labors, fewer interventions, fewer cesareans, translate to a more satisfying birth experience. See Klaus, Kennell and Klaus, The Doula Book, Third Edition (2012), chapter 5.
Q: Partners are sometimes hesitant about hiring a doula. How do doulas benefit partners?
A: Only your partner can provide the love you share. Doulas mother the mother because we have the experience of many more births than most partners. I have attended over 60 births so I have a sense of what is typical, even for high risk pregnancies. By showing partners ways to  help the labor process I work with both partners. Some partners want to be labor coaches and others do not. No matter what, we work as a team.
Q: How do you serve women from diverse ethnic, racial, and religious backgrounds?
A: I realize that personal cultural traditions carry deep significance for my clients. I honor all individual choices, cultural and religious traditions in pregnancy, birth, and recovery. It is your birth, and I always see your wants as primary.  I speak French fluently and proficient medical Spanish.
Q: How do you stay current about birth?
A: My motto is "always keep learning". I attend many conferences and gatherings for people working in the perinatal period through the years. Link to Continuing Education PDF.
Q: What if you cannot make it to my birth?
A: I only do birth work now, so I limit my practice to what I can do well. Although I also offer classes and individual consultations as a childbirth educator, those clients are very flexible about rearranging class times for a birth! I know other experienced doulas who back me up if I am ill or unable to attend your birth. The back-up doulas are available to meet you before labor, if you want.
Q: Where do your clients birth their babies?
A: I attend hospital births in Hampshire, Franklin and  Hampden counties. My home-birth clients come from a wider area of western Massachusetts. I live in Northampton and my clients come from Northampton, Amherst, South Hadley, Greenfield, Springfield, and other Pioneer Valley communities in western Massachusetts.
Q: Do you have any references I can contact?
A: I am happy to provide these! You can also click the Testimonials tab on this page.
Q: What kinds of birth situations have you encountered?
A: I have attended over 70 births in homes, free-standing birth centers, and hospitals, including births with and without epidurals, high risk births, emergency cesareans, planned cesareans, VBACs, premature births and transfers of newborns to a Level III NICU.
Q: What else do you do?
A: I live in Northampton with my husband and we have two daughters in their twenties. I've belonged to a book club for over 15 years, I volunteer at Cooley Dickinson Hospital and at the Hampshire Community Action Coalition. I am committed to developing a community-based doula initiative in Springfield.
Q: What does a doula cost?
A: My doula charges vary, depending on how much support a family wants before and after birth. My basic birth doula package costs $1000. Because I believe strongly in the value of birth doula services for all, I will work with you to make a payment plan. Adjustments can be made on a case by case basis. If you are eligible to receive WIC, I can direct you to subsidized doula care available through the Green River Doula Network at  www.greenriverdoulas.org
Q: What's next? How do I set up a free discovery session?
A: Call, text or email me, and we'll set up a free one-hour consultation! We can meet anywhere within an hour's drive of Northampton convenient for you.  I will share how doula care can help you have the birth of your dreams. I look forward to meeting you!